/
Rodolfo Maturino RR for short, 38, is a man with a passion for learning.
After completing his Bachelor of Science degree, major in Computer Engineering at the University of Regina Carmeli, Malolos City, Bulacan, he also went to study in different fields. Today, he has certificates in Account-ing, Food and Beverage Services, and Cookery from De La Salle-College of Saint Benilde. He also attended a Basic Culinary Arts Program. He now works as a cook for one of the hotel schools in Manila.
RR is fourth among eight children in the family. He is deaf— the only one in his family.
His Story
I Can't Hear… But God Listened to Me
MY parents brought me along to our parish church to hear Mass. But the problem was, I could not hear. Among people with hearing loss, I am classified as Deaf with the capital D. The Deaf are those who use sign language as their means of communication. Members of the Filipino Deaf community use Filipino Sign Language (FSL) in particular as their language. FSL has its own syntax, grammatical rules, and order.
I had no one to interpret for me what the priest and the readers were saying during the Mass. During the homily, I would see the churchgoers smiling, nodding, maybe laughing or contemplating on what the priest was say-ing. I could only guess what was going on. Not hearing anything, I understood nothing. I got bored and dozed off throughout the Mass.
I got so frustrated over the Mass that in 2003, when I was in my mid-20s, I eventually stopped going to church.
Going Astray
The next time I stepped inside a church was in 2012. A friend, Deaf like me, invited me to attend a service in her church which is not Catholic. She said a number of her co-church members— including the pastor himself, are Deaf.
And, what's more, there's an interpreter throughout the entire service.
So I attended the service and for the first time, I understood what was going on, a big thanks to the interpreter.
I felt like I belonged there. I went back for a couple more times.
But then, the members began egging me on to convert to their religion.
Although I didn't attend the Mass anymore, I still wanted to re-main Catholic.
How I wished there was a Catholic church that had an interpreter for persons with hearing loss.
Finding The Feast
Little did I know, God heard my fervent wish that day. On the same year, on Easter Sunday, another Deaf friend, Annabelle Salazar, invited me to attend the Grand Easter Feast at the SMX Convention Center.
In Filipino Sign Language, I asked, "Is it a non-Catholic church? Because I'm not interested." She replied, "No, it's Catholic."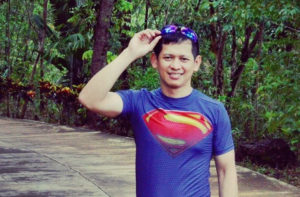 I didn't believe her at first. I thought it was just a ruse to get me to her church. But curiosity got the better of me so I went that Sunday to SMX for the Grand Easter Feast.
I couldn't believe it. There was an interpreter, using FSL at that. Through the interpreter, I understood everything that was going on. I absorbed what the priest and the speakers said. The interpreter even signed the lyrics of the songs during the Worship, so I got to praise God along with everyone else. Because even as I did not hear the songs, I clearly understood what the singers there were belting out. Amazing!
What's more, I got to see Bro. Bo Sanchez in person. I'd been familiar with him because I'd seen him on TV. I felt happy and blessed being there.
I couldn't thank Annabelle enough for bringing me there. In time, I was already bringing my family to The Feast. I have already brought along with me my mom Leonida, my brother Raphael John, and my nephew Lester.
Eventually, I started serving in the Deaf and Interpreters Ministry as Deaf relay interpreter. I also signed up to be a member of a Light Group (LG) for the Deaf. My LG co-members help me reflect about life, my relationships, and my work.
I call The Feast my spiritual home now. I have learned to interact with people outside my circle. Here, I've gained new friends, who are growing with me spiritually. Together, we attend The Feast spiritual formation program. I have a more intimate relationship with God now.
But not all we do is spiritual stuff. We eat out, play games, or go on mission outreaches together too. I'm just glad that I have learned to interact not just with the deaf, but even with the hearing people, too.
Back to the Church
Since my first visit, I have always attended The Feast in the Bay Area every Sunday. I have grown to love the Mass for now I understand the importance of the Sacraments in my life. The homily and the talk help me to contemplate on my experiences and think how to change my life for the better.
Jeffrey Bowden, an American interpreter, and a friend of mine, once delivered a talk during The Feast Leaders Assembly. He said, "Over 90% of the Deaf community worldwide is unchurched. It is important to understand that unchurched does not mean ungodly or devoid of the concept of God. It means, specifically, the inability or unwillingness to attend church, participate in biblical education, or seek spiritual counseling."
I couldn't agree more. I know there are many Deaf out there who are hungry for God's Word and want to worship in a church but are unable to for lack of interpreters. My advice is this: Come to The Feast!
[/vc_column_text][/vc_column][/vc_row]