/
JC Libiran, 32, married, holds Bachelor of Secondary Education and Master of Arts de-grees in Religious Education.
He serves as director of the Light of Jesus Family's campus mission dubbed Campus LIFE, which is inspired by the Biblical verse in John 10:10, where Jesus said, "I have come that they may have life, and have it to the full."
The mission of Campus LIFE then is to enable the youth in school campuses to expe-rience "Life to the Fullest."
"Because if it will be simply 'campus life,' then it will be just the ordinary day-to-day ex-perience in the campus," JC explained.
JC is into speaking, facilitating, life-coaching, and writing. He is also the founder of Project CourageZone, and author of Byahe ni JUAN.
He lives in Valenzuela City.
His Story
MY spiritual life used to be shallow and ritualistic.
I attended Mass in our parish religiously, every week. I even served as altar boy and member of the Music Ministry.
Yes, I was religious but I was not spiritually mature. I was doing a lot of church activities because I was raised a Catholic and I had been used to doing my religion's routines.
But I could not express my faith fully. I needed a new way of living my faith. I was in search of meaning and depth in my faith walk.
So there were instances that I checked out what the other churches could offer.
Finding The Feast
I got to know about The Feast when I was a college student at the University of Sto. Tomas.
College required research work so I had to visit bookstores. One day, while I was checking out a Christian bookstore, I saw Kerygma magazine. I browsed through it, started reading an article of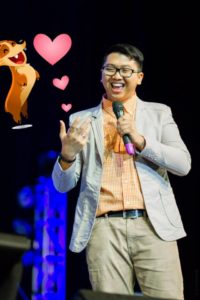 Bro. Bo Sanchez, and I was hooked.
The magazine carried an announcement about The Feast then being held in Camp Aguinaldo in Cubao, Quezon City. Impressed by Bro. Bo's writings, I eventually attended The Feast.
What I love about The Feast is its positive and friendly atmosphere, its practical yet powerful preaching, and its lively praise and worship session.
It's like you come in sad and hopeless but after The Feast, you feel happy and hopeful, ready to face life once again because you know that God empowers you all the time.
Most of all, what made me decide to stay in The Feast is the leader—Bro. Bo Sanchez— not because he is an amazing preacher and author but because he is a man of integrity and a true servant-leader. His whole life points to Jesus and because of this, I made a decision to follow Jesus through him.
I have been attending The Feast since 2003 when I was still a college student. I am very much involved in The Feast as a preacher, youth pastor, worship leader, and Light Group leader.
I also serve as director of the Light of Jesus Campus LIFE which makes young disciples for Jesus in schools through life-changing events and small support groups.
Back to the Church
What I love about my Catholic Faith is that it is abundant in meaning, depth, and expression of God's love, mercy, and grace. Through our Church, God manifests His mercy and compassion for us—like the Merciful Father has embraced his Prodigal Son.
I am not without mess in my life, but God has turned my every trial into a beautiful mes-sage of faith, hope, and love.
Today, I share lessons I learned at The Feast in my parish church through working on special projects, especially in pastoral and values formation.