/
Marian Kris G. Valerio, 15, single, is a high school student.
She lives in Plaridel, Bulacan.
Her Story
MY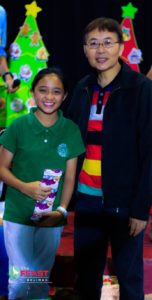 parents taught me to pray and we are used to attending Mass every Sunday.
But I didn't have a close relationship with God.
Until an aunt invited me to join The Feast.
I've been a member of The Feast for more or less four years now.
What I like most about The Feast is that it is a welcoming community. I like the way we worship, the talks, and the kind of community in The Feast.
The Feast has confirmed what I like most about our Catholic Faith: that Jesus Himself is the Founder of our Church.
I also like the Eucharistic celebration, the de-votion to Mama Mary and to the saints, and that our Church is all-embracing.
Today, I serve at The Feast as member of the Dance Ministry and as a contributing writer in the Media Ministry.