/
Francis Miranda, 40, single, holds a Bachelor of Arts degree, major in Integrated Marketing Communications.
He is co-owner of a gym, and he serves as a vice president of an advertising agency as well. He is a public speaker who loves inspiring people.
He lives in Las Pinas, Manila
His Story
I CAME from a highly spiritual family. My mother, especially, ingrained in me a lot of religious
values.
I also joined a prayer community where I learned some more about strengthening my faith.
Going Astray
Even with my strong values formation, I still fell into sin.
When I hit my 30s, I suddenly entered into a relationship with another man. In time, however, we broke up, and whatever's left of my sense of worth simply dissipated. I became sexually promiscuous.
Since promiscuity and a spiritual life, like oil and water, won't mix, my spiritual life started to die.
Before my fall, I attended Mass. But with my spiritual life almost in coma, I also strayed away from the Church.
Finding The Feast
Five years ago, on Valentine's Day, I suffered a professional failure that really wrecked me.
I was so desperate, I cried out to God for help.
And, God must ha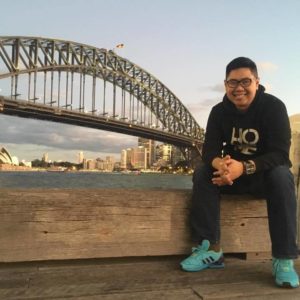 ve heard me because the next day, I saw online Lysa Sanchez, a sister in my old prayer community.
I messaged her, asking her to pray for me. Little did I know, she was already an attendee of Feast Makati.
"What are you doing this Sunday?" Lysa asked me.
"Nothing," I said.
So she invited me to attend Feast Alabang, so called because it is located at the Festival Mall in Muntinlupa City.
It was my first time to ever attend a Feast and right there and then, I felt like God's message, spoken by the Feast Builder, directly targeted my heart.
I was so touched that I went back and attended The Feast regularly.
But my spiritual transformation did not happen overnight. In my first six months at Feast Alabang, I just kept to myself, avoiding talking to people. Nor did I ever consider serving in any of the ministries. I left right after the Love Offering.
To be honest, I was not ready to follow The Feast teachings. I still could not turn away from my wanton ways.
But, it is often said that God will finish the work He has started in you. True.
By His grace, it happened that one day at The Feast, out of the blue, one of the leaders, Jonathan Yogawin, approached me. I didn't know him from Adam, and he really didn't know me. But he asked me if I'd like to be an emcee in a new Feast called iFeast4.
I thought emceeing The Feast was just a one-time job— not a full-time ministry service.
So I don't know what got into me— but I said, "Yes."
That Yes led me to amazing friends at iFeast4 who warmly welcomed me, accepted me despite my woundedness.
And I guess that's what made me commit to serve in iFeast4 which is now called Wednesday Feast Festival Alabang.
Part of the attraction of The Feast for me was really the leaders' deliberate decision to reach out to the unchurched. To really make it a mission to bring the love of Christ to precisely the people who didn't know they needed it. With a mission that powerful, you really can't help thinking that this is an amazing instrument of the Lord to bring so many people to the joy of His presence.
I have been a member of The Feast for almost five years now. Wow. Half a decade.
I'm happily serving at Feast Al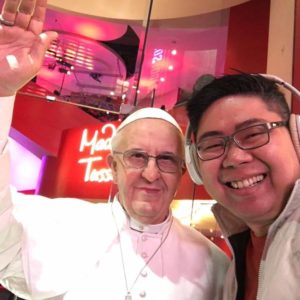 abang Town Center (ATC) under Mike Vinas as his Connect Pillar. I also serve as Worship leader, and head of a Light Group.
I also occasionally serve in my former community as a worship leader and speaker.
Back to the Church
I attend Mass in our Feast where I've learned to appreciate my Catholic faith more.
I like how Pope Francis is now opening the doors of the Faith to reach out to the least, the lost, and the last. I appreciate the pastoral approach to make people feel they belong, before they are required to believe.
Our Pope is bringing the Church to what it is supposed to be: a rescue craft for the drowning, a field hospital for the wounded, and a shelter for God's people. This is what I love about our Catholic Faith.