/
Angela Merici S. Bacosa, 23, lives in Palawan.
She holds a  Bachelor of  of  Science in Business Administration degree,  major in Human Resource Development Management. And works as an instructor on Human Resource Management at the Palawan State University External Campus, some 180 km from the City of Puerto Princesa City.
Angela went to a Catholic school, and even joined a faith community. But for some time, she seemed to be in a spiritual slumber, not really feeling God in the Church rituals, and she even ventured to find Him in a non-Catholic religion.
Her Story
I used to have a simple routine I called HWC — House- Work-Church. I was contented hearing Mass at least twice a week.
I joined a faith community, where members where grouped into what is called Household. The Household met at least once a month for prayer and fellowship.  There were other community activities but I rarely attended them.
I also attended Christian prayer meetings.
But still, I remained lukewarm  about my spiritual life.
Finding The Feast
In February 2014, a friend invited me to attend a Christian Life Program held by a Catholic community. I attended and I graduated in May 2014.
During the graduation, my friend gave me a gift packed in a  brown envelope. I opened the envelope and saw a copy of Kerygma magazine.
At home, I quickly read all the articles, and was I impressed, especially with the article of Bro. Bo Sanchez where he talked about The Feast.
Reading about the blessings of The Feast, I whispered a prayer to God,  "Lord, sana magkaroon din ng ganito sa Palawan."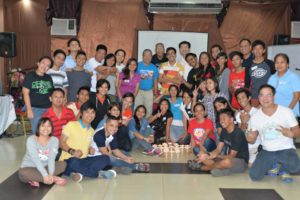 Yes, I prayed we would have The Feast in our province. And It was a prayer God did not waste time to answer.
One day, my Household head announced that as part of our fellowship of the month, we would watch The Feast Video (TVF).
As I watched the video, I felt it was the blessing my soul had so hungered for. It radically changed my life. Like, I made a 180-degree turn— away from my lackluster existence.
The talks have so filled up the empty space in my heart that  I feel I am a better person now —and trying to be best. It has been an amazing experience.
I have been attending The Feast Video with my Household weekly. I've been a member of  the TFV ministry for almost two years now. I serve as an emissary of The Feast Video in our town. And we just started our own TFV ministry five months ago to bless more people.
Back to the Church
One of  Bro. Bo's talk series in The Feast Video that really woke me up from my spiritual slumber was God Exposed.
A Feast Lenten series in 2014, God Exposed focused on seeing God, hearing God, and touching God through the Sacraments.
For me, the talk series was such an eye-opener on the richness of our Catholic Faith. Indeed, aside from the Holy Mass, our highest form of worship, we have the various Sacraments — all given to us by the Church, so that, as Bro. Bo pointed out, we will grow closer to God and experience Him more in our life.
I appreciate my Catholic Faith more right now.  Years ago, even as I went to a Catholic school,  I just attended  Mass, prayed the Rosary and Stations of the Cross without even thinking that God is really behind these Church activities. But I know now —fully— why we are doing this and that.
Today,  aside from my TFV ministry, I'm serving as lector in our parish church every Sunday. It is really such a blessing to be a Catholic.