/
Diana Lim Miranda, 34, is single and she is working on a Certificate in Theological Studies.
Diana works as a freelance eventologist and talent for film, television, and theater.
Diana was an active member of her parish church. But she got busy with school, then with work. And following issues in her parish, she explored non-Catholic churches.
She is currently recovering from stroke and requests for your prayers for her full recovery.
She lives in San Pedro, Laguna.
Her Story
In my younger days, I attended Sunday Mass at my parish church. I started serving at the church when I was 9 years old as member of a group with a devotion to Our Lady of Fatima. I was also a member of the Choir and a youth team.
But then I got busy with school, and so parish service became just second priority to me.
Once in a while, I served as leader of some of the organizations in church whenever there were parish special activities. But I begged off from service whenever a personal matter arose.
The more I didn't have time for parish service when I began to work as trainer-coach in call centers where office hours vary.
Straying Away
Sadly, because of some issues in the parish church, our youth team became inactive way back in 1998. Our leaders and members ventured into other groups.
Out of curiosity, I explored other non-Catholic churches and services.
Finding The Feast
I have been a fan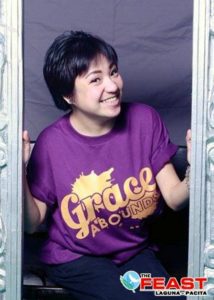 of Bro. Bo Sanchez, and most especially his talks. I read his books, listened to his teachings, and just followed him, and became inspired.
I attended The Feast at Valle Verde Country Club in Pasig City.
I am thankful that I got to be part of the Light of Jesus Family founded by Bro. Bo Sanchez, from where The Feast started.
The Feast is the biggest factor why my spirituality is now intact and complete. The Feast is my forever spiritual nourishment! The Feast has taught me a lot about life, love, and faith. That even if I am imperfect, I am loved by my perfect God. I've learned that I am loved by people who, like me, are God's work in progress. All imperfect but sharing and expressing God's perfect love through Jesus Christ. No judgments. Just pure love!
So at The Feast, I am free to worship God with all my heart, my body, my mind, and my soul.
The Feast gave me the reason for my existence, my life's purpose, and mission.
The Feast made me realize the true meaning of service and commitment. That selfless love and dying to oneself to be Jesus to everyone.
I've become a shepherd, searching for the unchurched and introducing to them our loving God. The Feast made me faithful and nurture the faith that I have with fellow believers.
Serving at The Feast
At Feast Valle Verde, I volunteered as ministry servant starting 2010 when it had a Feast in Alabang, Muntinglupa City.
I am thankful that since then, I have been privileged to serve God as member, worship leader, even speaker in various Feasts. I've been serving in the Dance, Media, Special Events, Music, or Youth Ministries in Alabang, Makati, Sucat, Baliwag and Pacita, our Feast in my own village.
Back to The Church
The Feast opened my eyes to the truth about the Catholic Faith. Now, I love even more being a Catholic because I've learned that I am able to love God and have a special time for my Him, and my Jesus Christ, the Blessed Trinity, through the Holy Mass and the Sacraments.
I've learned that I am able to honor our dear Mother Mary, our Saints and the Blessed as intercessors. And I appreciate that we are being guided by our Guardian Angels.
I am now sharing God's love through Jesus Christ because of what The Feast made me feel.
At about the same time that I've been awakened about the truth of my Catholic Faith, there was a change in my parish church.
Promptly, our youth team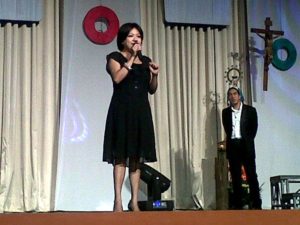 came alive again. Last 2013, we conducted again our seminar for youngsters — mostly aged 12 years old— to let them know God and how wonderful it is to have Him in their life. The seminar was a success.
I work with some other members of this youth group who also have gone through The Feast Experience. We now share with our new members what we have learned at The Feast — knowledge and wisdom imparted by Bro. Bo Sanchez as well as our pioneer Feast Builders– the Kerygma 5, as we call them—and the younger leaders who with Bro. Bo, are now called Preachers in Blue Jeans.
Today, I also serve as adviser and elder of the Corinthian Community at the San Lorenzo Ruiz Parish, Pacita 2 Village, in San Pedro, Laguna. I help plan and supervise implementation of our Community projects, and sometimes, I serve as speaker in our gatherings, sharing what I've learned at The Feast– God's Word about His unconditional love for His people.
Our Corinthian Community in our parish church is now flourishing, with almost 200 members, ages 12- 40, and we have an active Core Team of servant-leaders.
We have a weekly fellowship gathering we call our Sundates. Fired up at The Feast, our Corinthian Community members go on community outreaches and participate in our parish projects.
Eager, marching on with our community chant: "Pass it on: God's Love." With The Feast and the Corinthians, we will Know, Love, and Serve!