/
Pacino Puno, 30, works as a reservoir engineer at the Energy Development Corporation in Ortigas, Pasig City.
He is a graduate of the University of the Philippines in Diliman where he earned a Bachelor of Science degree, major in Mechanical Engineering.
Ace, as he is called by friends, grew up in Cabanatuan City, Nueva Ecija, regularly attending Mass on Sundays with his family.
He went to Manila for college. Away from his parents' supervision, he chose not to hear Mass anymore. From 2002 to 2013, he attended Mass only on three occasions: Christmas, New Year, and Easter Sunday when he was home for the holiday.
His Story
After college graduation, I decided to just stay in school and be part of the academe so I could be with my girlfriend, Kate (name was changed) who studies in the school I worked for.
For the next three years, we enjoyed our perfect relationship. Both our families approved of us as a couple. When she was about to graduate, we started planning to save money for our wedding. So, I left the academe and entered the corporate world for higher pay.
This meant I had to be away from Kate for periods of about one to two months. After her graduation, she got a job that also required her to be on site for about a month..
Our perfect relationship started to crumble. We started to have less time for each other, talked less, and started to have fights even for the shallowest reasons. Eventually, we separated.
Suddenly, my world seemed to be void of purpose. I felt lost and broken. In pieces.
Devastated, I poured my energy on work and devoted time into running and playing badminton. Some days, I'd push myself to the point of exhaustion so that when I got home, I would easily fall asleep.
Finding The Feast
Back in 2012, I found myself watching The Feast on IBC 13 on Sunday mornings. Not regularly— but it was rather frequent. The Feast became part of my Sunday ritual. So, when a college friend of mine, Gabriel Villar, invited me to attend it live, I gamely joined.
All along I thought that The Feast was a gathering of a popular sect opposing Catholicism. I was both happy and relieved that Bro. Bo Sanchez is Catholic.
In July 2013, I made my first visit to The Feast Bay Area, which was at the Philippine International Convention Center (PICC). I went with friends.
Immedi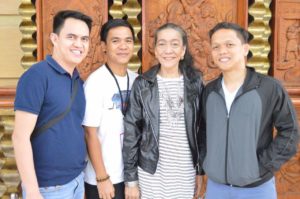 ately, I liked the place, the ambiance.
During the Mass, I told myself, "I like it here."
The Mass was not at all boring.
The next time I went, my friends Sophie Auditor and Kristine Reyes came along. The latter is already a Feaster at the time. After the session, they made me sign up for a Light Group (LG) with Genalyn Baal as head. Our LG meets every Wednesday in Ortigas where I work.
I find the LG helpful in understanding the talks. This time, I appreciated the talks more because I get to apply what I heard to my circumstances. The talks made more sense to me.
Joining The Feast took my mind off my heartache. It helped me meet new friends and most of all, it brought me closer to God.
I joined the Formation Ministry which conducts the Feast Bible Study (FBS) and other spiritual development courses for The Feast ministry members.
Through my ministry, I had an opportunity to serve at the Jesus Encounter (JE) seminar hosted by Feast Bay Area, which included an anointing of the Holy Spirit. During the solemn rite, I felt a warmth that wrapped around me as if I was being embraced.
In that embrace, it was as if God was telling me, "My child, are you done solving your problems on your own? Come here, let me hug you. All you ever had to do was come to me. I am here. I love you."
During the JE, I experienced a spiritual awakening, so intense, that I resolved to center my life in Jesus and serve Him the best I can.
I also joined the ILoveLife Retreat, also organised by Feast Bay Area, which helps singles to deal with their personal issues and face life with enthusiasm.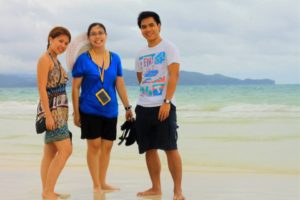 Through the various Feast ministries, I met my wonderful travel buddies in this journey called Life. Through their love and kindness, I see Jesus in them. I am grateful and blessed to have known them.
Back to The Church
I know God is transforming me to be the best man I could ever be for my future wife. I know that what I am going through right now is a process so that I may be worthy of the princess, His precious daughter, whom He has planned for me.
Going through the formation program of The Feast, I now know how valuable the Mass is in my life and for my transformation and eternal salvation. I regret the times when I missed to hear Mass and take the Communion. But now, I know better.