/
Alvin Carlo B. Buenagua, 30, lives in Taguig City. He works as service advisor at Ford Global City.
Even in his childhood days, Alvin was already interested in cars. So after high school, he took up a vocational course in Automotive. Later, he studied at the Technological University of the Philippines in Manila and earned a Bachelor's degree in Administration, major in Management.
In 2005, he worked as automotive technician at a Japanese car company in Manila. Living with his family then, he spent Sundays at home resting after a week's hard work. He hardly went to Mass.
His Story
We are three siblings in the family and I'm the youngest. Because of financial difficulty, my parents decided that I live under the care of my grandparents and aunt in their home in Quezon. We led a simple and happy life.
I remember going to church only on Christmas and New Year. On those occasions, my lolo and lola took me with them to attend Mass at the Our Lady of Peace and Good Travels in Antipolo, as part of their panata, or devotion to Mama Mary to keep  safe their children who were in Manila working.
I didn't think much about my spiritual life. I got addicted  reading pornography magazines and didn't really think it was wrong.
At the time, since I love cars, all I wanted was to find a good job in a car company. But I was like going in and out of jobs, finding it so hard to land my dream job.
Finding The Feast

My journey to The Feast began at my dentist's clinic. There were Kerygma magazines in the waiting room. I read them and so I got to know about Bro. Bo Sanchez.
One day, while channel surfing, I chanced upon Bro. Bo Sanchez on television. I watched the show and I found his brand of preaching motivating. Eventually, I would wake up early in the morning just to catch his talk.
It took me years, though, to finally find my way to The Feast.
One time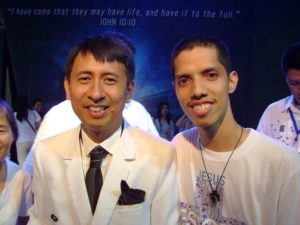 , Raffy Ancheta, my supervisor in one of my earlier jobs, happened to get a flyer about Feast Manila, held at SM Manila in Quiapo, every Friday. He invited me to attend the prayer meeting  with him. At the time, we were joining a networking company on the side to augment our income. So Raffy said it would be a good idea for us to go together to The Feast and meet people who could be our target clients.
The minute Raffy mentioned The Feast, I remembered Bro. Bo. So I went with Raffy, thinking I would see Bro. Bo in Feast Manila.
We went to the prayer gathering in November 2009. But the preacher was Bro. Obet Cabrillas, not Bro. Bo. I didn't mind though. I found the experience as I had expected -– spiritually nourishing and inspiring.
I went back the next Friday, and became a regular. I even served there as a greeter. My frequent attendance slowly but surely healed me of my addiction to pornography.
In April 2011, I joined a two-day Singles retreat in Our Lady of Manaoag in Pangasinan.
At the retreat, I said a bold prayer: "Lord, stir within me and cause me to be restless. I want to live according to Your will."
Later that summer, Ralph Sioson, a fellow servant at Feast Manila, invited me to Feast Bay Area. I went and this time, I saw Bro. Bo Sanchez. I was all ears when he gave his powerful message.
I found it more convenient attending The Feast on a Sunday so I chose to continue joining this prayer meeting instead.
I also signed up for a Light Group (LG) with Rhoda Marmol as our head. She gave me a Holy Bible as a birthday gift. This got me started to take studying God's Word seriously. I joined various spiritual formation classes, like Roots and Prayer and Life Workshop. I signed up for Radical Men, batch 4, and I Lovelife Retreat, batch 3.
I also attended the Kerygma Conference. By this time, I have already imbibed Bro. Bo's teaching on financial literacy— giving tithes and, as God promised, you will receive more than  you give.
At the time, since I could not hold a job, my money was down to P10,000. Still, during the time of the Love Offering at the Kerygma Conference, I gave 10 percent of my cash.
Indeed, in time, my tithe has come back to me. In February 2012, I found a job at Ford Global City where I am now  service advisor— the job I'd always wanted.
I've since been consistent in tithing.
Back to the Church
The Feast has not only helped me find my dream job. It also helped me find my way back to the Church.
The Feast taught me the importance of attending the Mass and receiving Communion for my spiritual nourishment.  So now, I try my best not to miss the Sunday Mass.
As for Confession, I go twice a year, at least. I remember going to Confession. The priest was Fr. Bob McConaghy. I poured out to him my difficulties in finding a job I like. He advised me to leave the past behind and gave me pointers how to make my job easy and and how I can be happy in the workplace.
Since I've been receiving the blessings of the Sacraments, I've never been a happier person.
How true it is that when we move closer to our God, our Creator, our life becomes more joyful and prosperous!