/
Ma. ElenaV. Roxas-Amistad, or Mariel to friends, 47, lives in San Jose del Monte, Bulacan. She is married to Orlando. They have three children and one grandchild.
Mariel retired as territory sales manager for DMCI, a construction giant and land developer, in 2015.
Mariel did not appreciate going to Mass in her younger days not even when she joined a church choir and attended Catechism class.
Her Story
When I was still a kid, I felt sleepy when I attended church. I only went because I had to, because the whole family went. I didn't want to be left alone in the house.
In my teen days, I jo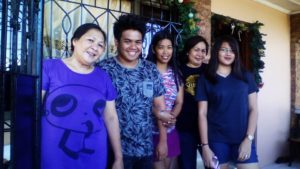 ined the parish choir. Though I attended Mass regularly, I still didn't appreciate it. Not even when I joined Catechism class and retreats.
Then I went to college and took up Dentistry in the University of the East. Schoolwork was so demanding I hardly went to Sunday Mass.
In college, I met Orlando, and after graduation we got married.
I then started working in my sister's dental clinic.
Finding The Feast
I found out about The Feast through my good friends Jay and Rowena Lizarda. They were raving about this prayer gathering by Bro. Bo Sanchez and invited me to go check it out with them.
In June 2015, I obliged. I went with them to The Feast held at the Philippine International Convention Center, or PICC, in Pasay City. It's a beautiful and happy place filled with friendly people.  During the session, I just started crying for no reason, tears of joy, perhaps.
On my first visit, I got enlightened on a lot of things about God. I liked listening to Bro. Bo. And since then, I've been going back because I knew that I would learn a lot from him about my faith and on strengthening it.
Back to the Church
Thanks to The Feast, I now know and appreciate the importance of the Mass and receiving the Holy Eucharist.
I have always loved God, prayed to Him, and felt His presence in my life. I had always held on to Him during lonely and trying moments. But today, I feel even closer to Him.
Today, I feel so happy in life.