/
Rora Pasco, 42, holds a Bachelor of Arts degree, major in International Studies.
Rora is self-employed, into the field of sales and marketing working as an independent distributor and business consultant for a company called Phytoscience Philippines. She also does real estate and life insurance selling on her own time.
"I was a busy person," Rora said about the reason she took for granted her Faith.
Her Story
Every Sunday, my two daughters and I attended Mass at a local church near our subdivision.  For me, that was enough because I was a busy person and I thought other people crazy for spending beyond an hour to serve and worship God.
I believed that for as long as you are not hurting other people and instead helping them, that was more than enough to please God.
I attended Mass but not from the heart and soul.  I felt attending Mass was more of an obligation to God.
I attended other Christian  gatherings and didn't think much about it.
But then, I felt that I wasn't that close to God.
Finding The Feast
My best friend Pamm, based in the United States, once came to Manila for a vacation. Her cousins, the Dela Vega family,  invited her to attend The Feast at the Philippine International Convention Center (PICC), now called Feast Bay Area, and she invited me to come along.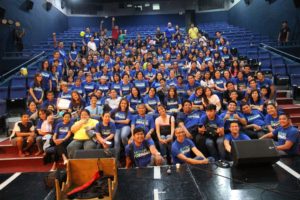 When Pamm left for the States, the Dela Vegas invited me again— this time to Feast Marikina.
My parents are in Heaven now. I am separated from my husband, and our two daughters are with me. Despite my status, I feel very much welcome at The Feast.
At The Feast, people do not judge you. Rather, they welcome you and treat you like part of the family.
The weekly talks at The Feast inspire me to live life to the fullest.  The Feast also uplifts my morale when I feel down.  I have learned to understand more about other people's behavior.  And most important, The Feast enlightens and guides me on how to deal with  my daily problems and challenges in life.
Today, I am happy serving God as one of the ushers at Feast Marikina.
Back to The Church
I like The Feast because it has influenced me to go back to the Catholic Faith, especially  attending the Holy Mass which other religions don't practise.
The Catholic Faith believes in the Holy Trinity and that celebration of the Holy Mass is sacred to us believers in Jesus Christ.
I've found peace and happiness with my new family at The Feast.