/
Shirley Molato, 43, married, holds a Bachelor of Arts degree, major in English, plus a Bachelor of Laws degree.
She lives in Marikina City and  works in a government office.

Her Story
I am an only child, a self-proclaimed brat. I was pampered and exposed to all kinds of comfort.
My parents  sent me to an exclusive Catholic school for girls, from kindergarten up to college. I attended Mass regularly and in school, we celebrated the feast day of just about every Catholic saint. Also, in Christian Living, a must subject,  most of my teachers were nuns.
So I thought I was already packed with knowledge about God.
Straying Away
After college, I took up Law,  this time, in a coed school. Since I'd been in an all-girls school all my life, I had a hard time interacting with the opposite sex— until I joined a Law fraternity.
I admit, those were the days t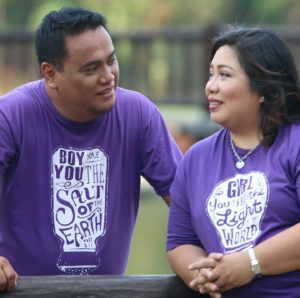 hat I tended to forget God.
My week days in Law school were so exhausting, I needed to rest on Sundays. So I stopped attending  Mass. I went to church only if I had to attend family gatherings— you know, baptisms,
weddings.
Oh, but frankly, if I  was invited to a night out drinking spree, easily, I was conveniently available.
In time, I graduated from Law school and began  working in the Judiciary.
Handling various legal cases, I was exposed to life's harsh realities— which somehow diminished my faith in God.
Away from the Lord, I fell into a trap. I had an illicit affair, and my boyfriend became the center of my life. I neglected my parents, disregarding their feelings against my indiscretions.
After more than a decade, the affair ended— to the relief of my folks.
Then, my mother passed away. She was my ally,  embracing me whether I was right or wrong— as opposed to my father who was an uncompromising disciplinarian. I guess he meant well. But even under what I perceived as his iron rule, my brattiness prevailed.
I was so devastated when my mom died. I rebelled against my loss, escaping my sorrow by gambling. I exhausted myself in casinos all night, so I could sleep right away once I got home.
Then, one night, I felt so lonely, I just simply broke down. At that moment, I remembered God, and sobbing, I prayed,  "Lord, if you have somebody really meant for me, please give him to me ASAP. Otherwise, I will never risk myself to love once more."
Truly I say, God works in mysterious ways. I met Chris. He's a man whom I could never be attracted to as he didn't seem to measure up to my standards for my Mr. Right. Except that he loved his mother dearly, and he's godly. So, I told myself, I should give this man a try.
Chris  attended Christian fellowships and he brought me along. But I felt uncomfortable during the service, especially when the people raised their hands during the worship time. I just didn't feel edified.
Finding The Feast
Chris's friend, Banjoy Santillan, invited him to  Feast Bluewave Marikina. Chris wanted to bring me along but the gathering was early Sunday morning. Exhausted from my work all week, bratty me didn't want to wake up that early, so I didn't join Chris.
But Chris went on inviting me— without let up— so I gave in and went with him to Feast Bluewave.
Throughout the talk of the Feast Builder, Bro. Monching Bueno, goosebumps crept all over me. The talks were so inspiring, I went with Chris again to Feast Bluewave the following Sunday, and the next, and the next, until The Feast became our Sunday habit.
Back to The Church
In time, Chris decided to convert back to Catholicism. I realized then my first impression of Chris was wrong. I realized that he is indeed the answer to my prayer for the right person to live with the rest  of my life. As of this writing, I just got married to Chris.
Although I explored other non-Catholic services, I want to remain Catholic. My family is Catholic and we honor Mama Mary and other saints.
The Feast has well influenced me to go back to my Catholic Faith.
Foremost, our Feast Builder,  Bro. Monching Bueno, is a strong influence for me to be back with the Lord. I easily relate with Bro. Monching's sharing about what he's gone through in life. He has inspired me to continue worshipping God.
I feel very much welcomed, like I am already part  of the family of The Feast.
Time flies fast in The Feast. My week won't be complete without attending The Feast every Sunday.