/
Ma. Lourdes de los Angeles, in her 30s, lives in Pasig City and works in a Japanese electronics and appliance company in Makati.
Lou is the youngest among her 11 siblings.  All  of them were baptized Catholic like their parents, but later, some of her brothers and sisters converted to various religions.
Growing up with her pious Catholic mother, Lourdes loved the Holy Eucharist. Then her mother died in 2002. Distraught, Lou stopped going to church.
Her Story
The year 2002 is an unforgettable year for me. In June, my boyfriend Jasper (not his real name) told me he had leukemia. He was the athletic type so I found it difficult seeing him lose his vigor.
I wanted to take care of him, but he refused. His business in the country also suffered. Eventually, he decided to close his company and he went abroad for chemotherapy. At the same time, he gave up on our relationship because he did not know if he could ever recover.
I felt so alone.
But nothing prepared me for the next blow. In the morning of September 14, 2002, I felt uneasy in the office. I felt sick, so I decided to go back to my apartment and immediately went to bed to sleep off the malaise. I woke up at about 10 p.m. as my phone rang incessantly.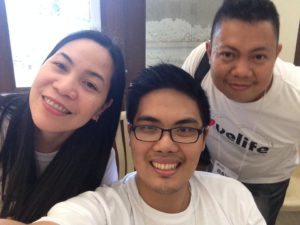 It was my brother calling from our home in Bacolod. He said our mother suffered a heart attack and was in serious condition. That's probably why I felt sick for no apparent reason earlier that day.
My mother used to smoke heavily. Thus she    suffered a lung disease and her doctor prescribed a  medicine which she was to take regularly so her disease  won't get worse. In the latter part of August, she took the medicine on an empty stomach, so she suffered acute gastritis. She had to be confined in hospital.
I spent sleepless nights over losing Jasper. But the pain was nothing compared to the thought  that I might also lose my mother.
Being the youngest in our family, I was closest to my Nanay. The very thought of her dying made me lose my appetite for two days.
I wanted to go home to take care of my mother. But my siblings convinced me that my mother's condition was improving and she would soon check out of the hospital.True enough, soon, the doctor gave her permission to go home.
I found out from my brother that since she felt well already, Nanay called her brothers and sisters to come see her. It was a happy reunion but which exhausted her so much that she succumbed to a heart attack that morning of September 14.
I started packing right away. On my trip home, I prayed the hardest in my whole life. Please, dear God, give my mother some more time with us.
My siblings and I all came to be with our mother. On September 17, when we were all by her bedside, my mother peacefully breathed her last.
That day, I felt God being inconsiderate and heartless. Why wouldn't He grant my simple wish? I only  asked to have more time with my mother so I could take care of her as she lovingly took care of me when I was little. Was that too much to ask?
I felt unsafe without the prayers of my mother. My faith stood on shaky ground.
In Manila, I lived with my sister and her family who are members of a religion opposed to Catholicism. Swayed by her, I started undergoing indoctrination to become a member of this sect. I actually completed the 25 sessions required to become a member. But somehow, I couldn't get myself to become a full-fledged member. I sensed that something was amiss.
I have four other siblings who belong to various   religions.  So nobody encouraged me to practice my Catholic Faith—actually, not even my fellow Catholic siblings.
My sister continued to bug me to join her religion. So I decided to look for my own apartment. I found one and roomed with Jane (not her real name), who followed another non-Christian religion.
Eventually, under Jane's influence and with the  lessons I learned from my sister's church, I began to question my Catholic teachings, especially about   the Mass. Confused, I even stopped praying.
Years later, after somehow recovering from the pain of losing my mother, I forgave God. I started to read the Holy Bible. As I did, I started to fall in love with the Lord again and I wanted so much to seek Him.
In 2009, I got scared that I might be having cancer.  I opened up about my fears to a friend in the office. He happened to belong to a popular church which practices the teaching of Jesus that Christians can pray over the sick and the sick would get well. He invited me to attend a service in his church.
"Come," he encouraged me, "so our prayer warriors can pray over you."
I attended the service and some of the church members prayed over me.
I confided to another friend— a Catholic charismatic— that I attended the Christian service. She gave me a copy of the Kerygma magazine and encouraged me to attend The Feast. Finally, God found me.
Finding The Feast
In March 2009, I went to The Feast at the Valle Verde Country Club by myself. That day, after seven long years of absence, I heard the Holy Mass again. My spirit suddenly perked up. I then realized this was what I'd been longing for -– the Holy Eucharist. I surmised my Catholic foundation was what had held me from embracing another religion.
That Sunday, I started again my devotion to the Holy Eucharist.
I was accustomed to the solemn way in Masses I used to attend, so at first, I was squeamish about the Worship part of The Feast, about raising hands and all.
But I saw the Feast attendees, especially the teenagers, having the time of their life during Worship—singing and dancing and jumping, raising, waving their hands in praise of God as if He was just right there in front of them.  And I realized that's probably how God sees us when we worship Him.
Now, I couldn't get enough of proclaiming His glory with my whole body and spirit.
Even when I was regularly attending The Feast, I still had many questions for the Lord. But through the formation program of The Feast, my questions were answered one by one, including the need for Confession.
Back to the Church
Today, seven years after my return to the Catholic fold, I continue to love the Eucharist. I have not missed going to church on Sundays. I even attend Mass on weekdays now.
Shortly after joining The Feast, I signed up for a Light Group (LG). Not long after, I became an LG head of the Singles Ministry. I am very much involved in its activities.
I'm glad to have met and made friends with wonderful people through The Feast. With them, I am able to apply the lessons from Bro. Bo Sanchez's talks. Life has meaning, there's so much joy, when you have true friends who love Jesus and are trying their best to walk the right path.
I am thankful for the formation program of The Feast because through it, I now have a better understanding and appreciation of my Catholic Faith. The Feast has led me closer to God and have an intimate relationship with Him.