/
Marinel Samantha V. Gloriani, 19, is a fourth year student, working on a Bachelor of Science degree, major in Accounting.
She lives in Quezon City
Marinel said she used to be "part-time Catholic."
Her Story
I WAS actually not a religious person. I wasn't consistent in going to church.
My family attended the 5:45 a.m. Mass—too early for me. I was lazy to get up from bed. I knew there were still Masses  in the succeeding hours, but I dilly dallied, until I altogether decided not to go, knowing I would be going by myself.
It was like I was only a part-time Catholic. It was a drag to simply go to Mass. But that was my old life, my old self.
Finding The Feast
When I was about 10 years old, an aunt invited my family to attend the Feast in Valle Verde Country Club, Pasig City. Auntie promised we'd have ice cream after the talk, so that motivated me to join my family to go to The Feast.
But then we got busy with family gatherings and school work, so we stopped attending.
In 2014,  we were invited again, this time, to attend in Feast Greenhills. Soon, everyone was attending there regularly—except me. Somehow, I always found an excuse not to attend.
And if anyone asked why I was attending The Feast at all,  I answered, "My family attends, so I don't really have any other choice."
At the time, when I was in Th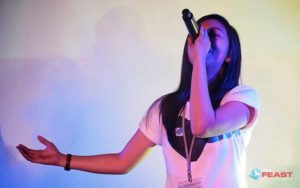 e Feast, I couldn't focus. I was  always thinking about school work or chores I left at home. I was bored every time I was in the prayer gathering.
Then, I started serving in Feast Greenhills in its Music and Dance Ministries—which motivated me to already attend weekly.   I've been serving in Feast Greenhills for almost two years now.
What I really like about The Feast is it is so welcoming. The more I became interested when I joined a Light Group for the youth.  That was the point when I felt that I already really belong in this family, this  community.
The friendly nature of The Feast is what really binds me. No matter what your past life is, The Feast members still wholeheartedly accept you. Everyone is approachable. It is never awkward for you to share whatever problem you have.
Back to the Church
Since it is Catholic, The Feast has pointed to me the Catholic Faith which makes its members feel like they belong to a family.
One more thing I love about the Catholic Feast is it makes you think that anything is possible if you just believe and trust in God.
Today, I serve as one of the council members in the Youth Ministry of Feast Greenhills whose main duty is to make sure young people take an active part in the Catholic life and we also help them cope with the challenges of their youth.
I am also head of the Dance Ministry and a member of the Vocals Ministry. Our goal is to proclaim the Gospel of Jesus through dance movements and songs.