/
Joseph Gerard Dizon, 41, married, is a college graduate, with a Bachelor of Arts degree, major in Mass Communication.
He has a small business that he has been running for four years, a home service spa—and he's a business contractor.
Joseph lives in Quezon City.
For quite some time, Joseph did not like going to church to attend Mass. Then his wife Marie was diagnosed with a debilitating disease…
His Story
I DID not see myself being part of a faith community. I felt that that the two-hour praise and worship was just all too much for me to bear. The singing, dancing, and lifting of hands to Christian songs was just not me.
Then it happened. In 2012, my wife Marie met an accident. Examinations in the hospital showed that she has brain tumor.
Henceforth, she began to seek God and His Will for her. There were times I saw her in tears, struggling as she did with her anxieties and questions about her trials. I, her husband, could not provide answers.
She calmed down and gained hope when she found The Feast. She learned to pray and read inspiring verses in the Holy Bible. She invited me to join her in her prayer and Scripture time—but I rather watched television. She attended spiritual seminars and asked me to go with her. I declined.
I could see that Marie felt alone. She wanted me to be part of the spiritual renewal but I simply didn't have the enthusiasm. I wasn't ready.
Straying Away
I was baptized a Catholic. I like our religion because it emphasizes humility and love for the poor.
But there was a time when my spiritual life was empty. Well, yes, I would try to go to church to hear Mass because that's our tradition as Catholics–no more, no less.
But I was not consistent in attending Mass. I guess I was not motivated because in church, the sound system was not good. I couldn't hear the priest or the messages well, so, I didn't get enough knowledge about our faith, nor was I moved to be faithful to God.
Finding The Feast
My wife brought me to The Feast. She had been praying over and over for the Lord's direction —where He is leading her with all the trials that she was facing. She prayed for a community that would bring her closer to God and help her overcome her fears.
Then after a few days, she received an invitation that said "Life Saver". It was handed to her by her mother, who at the time, hadn't heard of The Feast. The invite turned out to be from Feast Ortigas led by Bro. Vic Espanol. So, the following Sunday, in May of 2012, I went with my wife and we met Bro. Vic.
After two years, we were asked to join Feast Greenhills with Bro. JPaul Hernandez where the district head is still Bro. Vic.
Each Sunday at The Feast, I saw my wife soaked with tears, lifting her hands, fully surrendering herself to God. Somehow, I felt there was acceptance, relief, and there was so much love that was filling her up, which at the time I could not un-derstand. I saw a remarkable change in her, how her fears disappeared, as she began to trust the Lord.
That's when I began to pray. I asked God to help me overcome my apathy. And it's true: God answers prayers. For eventually, I agreed to go with Marie to The Feast.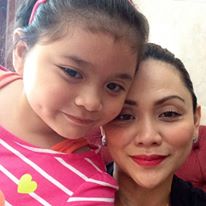 Since I joined The Feast, I've always felt that God is with me, especially in my decisions, big or small.
I've realized how much I need the Lord in my life now. So I am always looking forward to my Sundays, as I know I will be blessed with The Feast talk.
In February 2014, Marie underwent Gamma Knife surgery. After a week, she went back to work and took on the same responsibilities as she usually did. But the repercussions were severe. Four months after her operation, she suffered brain swelling. The tests showed that there was water in her brain or "necrosis" which also left a scar in her brain which could have been fatal.
According to her neurologist, the image of her brain looked as if it belonged to a person who had been in a very bad car accident. Therefore, she was put on steroids for three months which could have also brought complications.
But we prayed and kept our faith. Despite Marie's condition, she still attended the Sunday service and tried to be positive.
Then, in January 2015, she had her annual check up. My wife was so afraid of what the neurologist was going to say.
But he said, "Your tests showed remarkable results. The scar in your brain is gone, your brain went back to its normal state and lastly, your tumor has decreased in size."
I remember Marie calling me and crying for joy over what the Lord had done for her.
Back to the Church
The Feast has made my Catholic Faith grow stronger. Because of The Feast, I now understand that through God's words I know that Jesus is alive in me. He made a path for me—from being a nominal Catholic, going to church irregularly, I am now a servant of God, helping to grow the Couples Light Group of The Feast.
The Feast, indeed, is for the hurt, the broken, the unloved, and the sick. We accept everyone and we come together as family.