/
Gladys Ann Mae A. Hernandez, 25, hails from Bambang, Nueva Vizcaya. She studied at the Nueva Vizcaya State University (NVSU) where she earned her Bachelor of Secondary Education degree, major in Physical Science.
Gladys has been teaching Science to Grade 6 pupils, her advisory class for five years now at the Barcelona Academy in Marilao, Bulacan. At present, she is also the school's librarian.
Gladys was baptized and raised as an Adventist.
Her Story
In May 2010, fresh from graduation, I decided to begin my teaching career in the Barcelona Academy. For convenience, I stayed in the dormitory, which the school provides for teachers and staff, along with friends from NVSU who became my co-teachers.
I am the quiet type. During break time with my co-teachers, Reygie Hernandez, our administration officer and school registrar, often told us in jest, "There must be a ghost in your dormitory."
I knew he was alluding to me. And since he's the boss, I dared not respond to his joke. I just  smiled politely. Little did I know, he was already setting his eyes on me.
At first, I didn't think much of his attempts to win me. First, a relationship among teachers and staff was not allowed in the school. Second, he's Catholic, I am Adventist. I thought a relationship with him would go nowhere.
Finding The Feast
The owner of Barcelona Academy is Bro. Alvin Barcelona, the builder of Feast Marilao back then.
Reygie started out as Bro. Alvin's personal assistant and as such, he attended The Feast with the Barcelona family.
Reygie became Events head, managing Bro. Alvin's video presentations and related work every Saturday.
Even before he courted me, Reygie already invited my friends and me to attend The Feast.
At first, I attended because, well, you can't say "No" to the boss, right?
Anyway, I found the service at The Feast similar to our Adventist service, except ours lasted the whole Saturday.
Eventually, because of work requirements at school, I was not able to attend our Adventist service on Saturdays and ended up attending The Feast which was scheduled late in the afternoon, when I was done with my school work.
I didn't  have qualms about going to a Catholic service as I believed Adventists and Catholics worship the same God. We just differ in our practices.
Meanwhile, R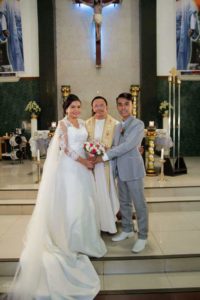 eygie was already courting me in earnest. I guess attending The Feast helped to bring us closer. A good strategy, I should say because after several months, we became a twosome.
But we kept our relationship discreet because, you know, our situation was complicated—he's boss, I am subordinate; he's Catholic, I am Adventist.
But in time, we got caught. Reygie got caught by Bro. Alvin nonetheless when he was buying me an engagement ring.
A sad moment in my life proved Reygie's sincerity. I took the Licensure Examination for Teachers (LET) and failed. Passing the exam defines one's teaching mettle, and so is considered a major gauge for a teacher's career advancement. Since I failed the exam, I felt like my career was over, and so was my life.
But Reygie, my boss, the one person who should be disappointed in me, and most likely ease me out of the roster of his bankable teachers, comforted me. I thought I would be an embarrassment for him. But he became all the more loving, caring, and supportive. I knew then he was for keeps.
During Christmas break following that, Reygie showed up on our doorsteps to meet my parents.
Reygie had a long talk with my parents, assuring them he had nothing but good intentions for me.
After sometime, we started talking about getting married and so we scheduled the pamanhikan, Reygie and his family coming to our house to ask my family for my hand in marriage.
But that would take a while. First, I had to straighten things out with my family, especially my mom. She didn't mind my attending The Feast, but I knew deep in her heart, she wanted me to choose to stay as an Adventist. Mama never said it before, but she finally did when we had a heart-to-heart talk. She never thought I'd actually chosen to be baptized Catholic. Mama was Catholic who converted to be an Adventist in her 20s.
I told her I love Reygie, and if we are going to be a family, we should have just one religion so as not to confuse our children.
Actually, Reygie and I started praying about it a few years before I had the courage to tell my mother I would like to be baptized Catholic.It was in our Novena to God's Love, a booklet where The Feast attendees are encouraged to write down their dreams and pray for it.
Before making the decision, I prayed hard one last time and Reygie and I sought the advice of  our priest friend, Fr. Benny Justiniano.
He told me, "Look into your heart's desire, not in Reygie's wishes."
Fr. Benny also told us that the Adventist religion is one of the denominations where members need not be converted into the Catholic Faith to be wed in the Church.
It's hard to explain, and yet, it was easy and simple for me to choose to be Catholic. It came naturally, I would say.
Honestly, at first I attended The Feast only for convenience's sake. But at The Feast I also fell in love with God more and as I fell in love with Him more, I kept going."
I told my mother I want my family to worship and serve God as one in one church. Reygie and I have been doing this the past years and it makes us both happy to be able to do this.
In the end, my mother  said, "It's totally up to you."
In April 2015, after undergoing four sessions of Catechism, I was baptized Gladys Ann Mae Alliovida, same as my maiden name, by Fr. Benny.
My godparents at baptism were Bro. Leonardo and Sis. Sheila Cruz, husband and wife servants at Feast Marilao, who I look up to.
Almost five years in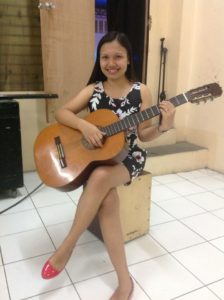 our relationship, Reygie and I tied the knot in Bulacan on May 15, 2015.
It's  a blessing that The Feast founder, Bro. Bo Sanchez and his wife Marowe, Bro. Alvin and his wife, Tes, as well as Bro. Leonardo and Sis. Sheila stood as our principal sponsors.
Today, Reygie and I are expecting our first baby. The baby in my womb hears the talks and festive worship songs at The Feast Manila Bay Area where we now attend, following Bro. Alvin who's now one of the preachers there.
Every day, I thank God for Reygie, a God-fearing man, kindhearted, sweet, loyal,  treating me like a princess.
I thank Reygie for introducing me to my second home, The Feast.
I am thankful for The Feast for it has brought me closer to God. It has given depth to my faith in Him.
I hope my story will inspire people not only to attend The Feast but to experience God, as I have, in an intimate, joyful way."