/
Marcus, 28, chose not to be identified as circumstances in his story reveal some sensitive matters. Names of others in his testimony were also changed.
Marcus entered the seminary, hoping to become a priest. But he was an only son, so his mother wished he would marry and have children to carry on the family name to the next generation. Mother and son made a deal that not only cut short Marcus's seminary days, but inadvertently shook his Catholic Faith as well.
His Story
I grew up in a traditional Catholic family. We went to Mass together every Sunday. My favorite church was the Greenbelt Chapel for its unique structure. In my child's eyes, it resembled a turtle.
A tragedy hit my family. My father was diagnosed with lung cancer in 2004. This misfortune brought the family closer to each other and to God. We prayed a novena every night for 100 days. On Sundays, we went to the Pink Sisters Convent to hear Mass and to pray for a miracle.
Then my father went to another doctor for a second opinion. The doctor said test results showed the malignant tumor was gone. The doctor declared him cancer-free. We couldn't be any happier, our faith in God strength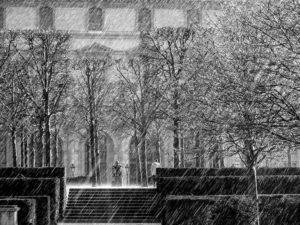 ened more than ever.
In high school, I fell in love with Clarisse, my bestfriend in grade school. I courted her but she chose my friend Damian over me. Heartbroken, I signed up for the seminary. I enrolled in a college seminary that offered secondary education. I enjoyed the peaceful life inside. I felt happy there for three years.
But my mother struggled with my decision. I am her unico hijo or only son, the only one who could carry on our family name.
So she made a deal with me. She said, "Take  an entrance examination for college. If you don't pass the exam, you may go on and become a priest."
I said, "Deal!"
I took the entrance examination in one of the premier universities in Manila. I passed it. So I left the seminary.
My second dream— after priesthood— was to become a journalist. So I enrolled for a course in Mass Communication in my chosen university. It was a Catholic school, so I thought I would be safe there. I mean, I would not wander away from my Faith.
Going Astray
I got real busy in school. Aside from my academic subjects, extra-curricular activities ate up my time. I joined five student orgs— a writers' society, a glee club, a cheerleaders' squad, a theater ensemble, and a political group.
With a group of college friends, I enjoyed parties and, of course, the booze.
I had a girl whom I met in school, and we went all the way, having pre-marital sex.
How did I go from godly to carefree life?
In college, my liberal professors in Philosophy, Social Science, and Political Science presented various beliefs, ideologies, philosophies. I learned negative things about the Church, the Pope, and the priests. My belief system was shaken. I began to question the foundation of my principles, my values and beliefs, including my religion.
I started to look at life differently, and I thought I  was wasting time going to church. A whole new menu of religions presented itself to me, beckoning me to embrace each one of them. I surmised, I could change my religion every day, as often as I change my clothes. Monday, I could be a Buddhist, Tuesday, a Taoist, and so on…I found the idea exciting.
It didn't help that my girlfriend didn't attend Mass, either.
I'd gone so far away from my Faith that in my fourth year, I directed a play that ridiculed Catholic Charismatics.
The play was about Jose Rizal and a friend he met in Europe, Austro-Hungarian Ferdinand Blumentritt, who wrote about Rizal and the Philippines, and thus to this day is memorialized in a number of our public parks and streets.
In the play, Rizal, who supposedly embraced another religion, returns to the Catholic Faith through a Charismatic group.
I presented the members of the Charismatic group in a comical, irreverent way. I received hate letters after that. But I ignored them. I justified my action saying, "But that's how the Charismatics really are!"
Finding The Feast
In time, I broke off with my girlfriend, and went on with my wanton life.
Because of my gallivanting, I neglected my studies and suffered failing grades. That was one of the few times I remembered to pray to God for help.
And I must say He came to my rescue, leading me on until I finally graduated from college and got a job in a business process outsourcing company in Parañaque.
I believe God didn't let me go at all. Instead, He drew me back to Him— through a girl who I met through friends at work.
Here, I name her Hazel. I believe she must be god-sent, for she would lead me to The Feast.
I courted Hazel and, I tell you, it was not an easy courtship. Her parents were strict, checking up on her whereabouts if she was not home within the 20 minutes that normally took her to get from her office to their house.
I succeeded in wooing Hazel, but her parents forbid her to go on dates and she obeyed them. So our time together was only those 20 minutes when I picked her from her office and brought her home.
Now it happened that one day, Hazel got sick. She went to a clinic near their place for a checkup. And the nurse who attended to her invited her to The Feast.
Actually, Hazel, like me, was not a regular churchgoer. She told me about The Feast and we saw that attending the gathering would be a good excuse for  us  to meet up and stay out of the prying eyes of her parents for a couple of hours.
So Hazel asked for her parents' permission to attend The Feast and, as we expected, they agreed. But, on one condition:  that they would drive us there.
So, one Sunday, I went to pick up Hazel from her house, and we rode with her parents to The Feast, then being held at the Valle Verde Country Club in Pasig.
Hazel's mom and dad didn't plan to attend The Feast. They just let us off the car, and waved goodbye, like we were little children being seen off to school.
As we stepped into the Valle Verde hall, I saw people singing and raising their hands. I then realized the group was Charismatic— just like the characters I ridiculed in my play back in college.
And, I was like, "Oh my God, I'm attending a prayer meeting of crazy people!"
I wanted to get out of the room.
But there was the band, with drummers and even violinists, and their upbeat music— so enticing, that we stayed for a while.
And then the preacher, Bro. Bo Sanchez, came onstage. It happened that his talk was about financial literacy— the Christian way of earning and handling money. We stayed on our seat and listened attentively.
But the best part was that we got to go out on a short date at the nearby mall before I brought Hazel home.
We went back to The Feast the following Sunday and later, auditioned for the Music Ministry. In April, we were already singing at the Grand Easter Feast, the biggest annual event next to Kerygma Conference.
It was at the Grand Easter Feast that I first felt God's loving presence. Overwhelmed by His mercy, acceptance, and forgiveness, I couldn't help crying that Easter Sunday. It felt good to be back in His loving embrace. My soul rejoiced.
It didn't take long before I signed up for a Light Group, and much later, for the spiritual formation program and the retreat for singles called ILovelife in 2013.
But my spiritual walk was not without a detour. Given the freedom to sneak away from her parents, Hazel and I succumbed to temptation and engaged in pre-marital sex.
Remember, we attended The Feast only so that we could be together, so we didn't really take the talks seriously.
But it is said that the Word of God is like a double-edged sword that can pierce through even a heart of stone. That may sound cliché, but I must say it is true, so true to Hazel and me.
Listening to the talks and the homilies during the Mass at The Feast, somehow, Hazel and I began to be bothered by our conscience. We knew we were leading a double life— singing, and praising, and serving God, yet afterwards succumbing to sexual sin.
One day, we decided to end our sin, and our relationship as well. We broke off and concentrated on our spiritual renewal at The Feast.
Back to the Church
I have to confess that even as a regular Feaster, I still did not appreciate the Mass. Being part of the Music Ministry singing both for the Mass and the Worship sessions,  I had no choice but to listen. After some time, I began to hunger for God's Word. My Sunday was no longer complete without hearing  Mass.
Soon, I looked forward to the Mass. I particularly liked listening to the homilies of the kindhearted Fr. Titus  Mananzan,  the poetic Fr. Alex Balatbat, humorous Fr. Eric Santos, and the sage Fr. Bob Mcconaghy. They had different ways of delivering God's message of love and mercy but all imbued with wisdom.
One of the reasons I turned my back on the Catholic Church was my bias against priests. To my mind, the priests didn't understand us, the lay people. They lived an easy life different from the common masses and so, they didn't have a right to impose such heavy religious tasks, or to preach on living a righteous life.
But at The Feast, I learned that priests are but human. Like me, they have their misgivings. But still, humbly, they do what they are called to do: to communicate and share God's unfailing and prefect love.
Like what I— God's work in progress— have done with this testimony.