/
Mae Angeles-Amihan, 33, married, holds a Bachelor of Science degree, major in Computer Engineering.
She works as senior account manager for an Information Technology security consultancy company. The company provides network security solutions to customers to protect their information technology assets.  
Mae lives in San Mateo, Rizal.
Mae said she hardly saw her family as a big blessing from God, she didn't  take her Faith seriously, and attended non-Catholic fellowships, and didn't think much about it. But soon, she experienced a spiritual awakening that led her to a joyful service to God and the Church.
Her Story
I had no solid religious life before I joined The Feast. Praying, at least once a day, was never a part of my daily routine before. At the time, I prayed to God only when I was in a difficult situation.
Sure I love my family, my parents, my siblings, my nieces, my nephew, my husband, and my one and only daughter— but I didn't appreciate the blessing of having a family.
There was a time when my husband and I were like two broken souls, two complete strangers, who lived together for no definite purpose. There was even a point in our marriage when I asked myself, "Why did I ever marry this guy?"
We both said and did so many negative things that really hurt each other and almost tore us apart. For quite some time we kept going astray farther and farther away from each other and we got really close to giving up on our marriage.
Going Astray
I didn't regularly attend Sunday Mass. I remember going to church only during Christmas Day, New Year's Day, or whenever I celebrated my birthday.
I didn't attend Sunday Mass because I was so busy with work and family life. I also used to believe that it was okay not to go to church every Sunday for as long as I was not doing anything bad against other people. I thought if I didn't think ill of my fellowmen, I was still a good Christian.
I attended a Christian fellowship service a couple of times and didn't think much about it.
Finding The Feast
My sister-in-law, who was invited by her friend to attend Feast Marikina early part of year 2013, encouraged our  family to attend The Feast with her. We joined in July 2013.
In Feast Marikina, I met people who explained to me that God doesn't desire those who have 'religion' but those who are willing to have a 'relationship' with Him through faith and belief in His Son Jesus Christ.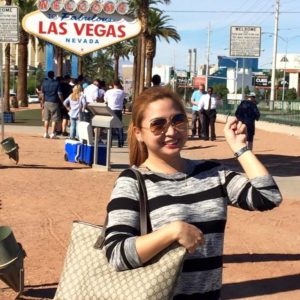 What I love most about The Feast, Feast Marikina specifically, is that this community made me realize that God is alive and He is very real. In The Feast, most teachings and the worship sessions made me believe that Jesus is the only way, He speaks to me, and I honestly feel He is guiding me.
I also love that those who attend Feast Marikina are mostly families. Because for me, family is the foundation of everything else. Your first ministry will always be your family.
I never appreciated the blessing of having a family until I became a Feast attendee and servant. Attending The Feast made me realize that my husband and daughter, parents, siblings, and other relatives are the most precious treasures in my life.
My married life before was not as fulfilling, as happy, as secured as it is right now. With God's grace my husband and I found The Feast and it has been somewhat a smooth sailing for us from thereon. With God at the center of our marriage, every day is indeed sweeter than the day before.
Back to the Church
At The Feast, I also learned to appreciate my Catholic Faith. We, as Catholics, hear many Bible stories and church teachings about salvation and grace and this is what I like most about our Catholic Faith. We all believe that we are saved only by God's grace. We believe in salvation by God's grace alone, solely on account of the works of His Son Jesus Christ.
And so I have committed to serve Him through The Feast. Today I am head of the Food Ministry of Feast Marikina.