/
Jay Deynata, 40, is a jeepney driver while his wife Criselda, 36, works as sales coordinator for a hotdog business.
Criselda and Jay met in 1992 when they were teenagers.They were neighbors in Dasmariñas, Cavite. They started out as friends and later, entered into a relationship. The two got married in 1999. They have a son, Carl Justin or CJ.
The couple were baptized Catholics but did not practice attending Mass every Sunday. They said they only went on occasions or when they needed to pray for favors and thanksgiving.
His Story
I never met my father. My mother said he's Swedish. That's all I know about him. No picture even. I don't even know if he knew about me. My mother didn't say much about him.
I didn't know much about my mother either. She left me to the care of my grandmother and aunts when I was only five years old. My mother worked in Bahrain and we had no communication. I saw her again only when I was in my 20s.
In 1998, my mother showed up on our doorstep. It was a joyful and at the same time tearful reunion. She said she already has a husband, a Norwegian, and they have two daughters.
One time, my mother took me to Norway for a visit with her family. I stayed there for three months, and I enjoyed bonding with my stepsisters.
I didn't have an easy life but I couldn't complain. I may not have had my parents beside me when I was growing up but I was loved by my grandmother and aunts.
All those years, I never felt bitter. I rationalized there were people whose circumstances were more unfortunate than mine.
One day in 1992, a family moved into our neighborhood. Their daughter, Criselda, would become my wife.
Her Story
I was born in Manila and grew up in Quezon City.
In 1992, our family transferred to Cavite and I met Jay. He became one of my first friends in the neighborhood.
Jay would also become my first and only boyfriend. He became my ex-boyfriend when we tied the knot in 1999 in our parish church. We are blessed with one son, CJ.
Our family went to hear Mass quite regularly. But, later, we dropped the habit.
In my younger years, my parents went to church on occasions, like Christmas. During Holy Week, we observed Lent rituals, like the Visita Iglesia— visiting a church and meditating in the adoration chapel.
But an unfortunate incident led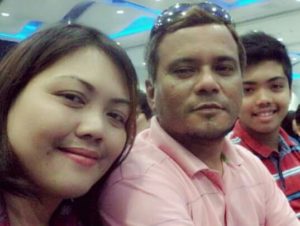 my father, Romulo, to seek God.
In 2005, my brother, Romulo III, suffered over fatigue that he had to be confined in hospital. We thought we would lose him but the medical team was able to save him.
Thankful, my father joined a Christian faith community. He became so passionate about his newfound religion, he invited Jay and me to join the group's prayer meetings. We attended a couple of meetings but after awhile, we  realized that such religion wasn't for us.
Meanwhile, I was content as a plain housewife, spending my spare time playing tong-its, a card game, and mahjong.
Then, one day in 2010, I met up with an aunt. Aunt Rowena is just a few years older than me, so we were best buddies when we were growing up. When my family moved to Cavite, I lost touch with Aunt Rowena.
When we saw each other again, I found out Aunt Rowena had a thriving hotdog business, and she asked me to join her as a sales coordinator. At the time, my son CJ was big enough to be left alone, so I accepted the job offer.  The job didn't just give me income, it pulled me away from my gaming vice.
But while my aunt pulled me away from the card games, but I went with  her to the casino.
Jay sometimes went with us because he didn't like the idea of two women going by themselves to the casino.
Finding The Feast
Criselda: In May 2015, my aunt started singing a different tune. She invited us to a prayer meeting called The Feast.
Jay: At first, we gave all sorts of excuses.
Criselda: Finally, we ran out of excuses so we went, with our son in tow.
Jay: Why not, when Rowena even lent us her family's car to use to get to The Feast at the Philippine International Convention Center (PICC).
Criselda: We first came on June 7, 2015. I loved it the first time I went. Everybody was happy singing, clapping their hands, and dancing.
To this day, what I like most about The Feast is the talk after the Mass. The lay preachers give inspiring practical tips on Christian living.
Everyone wants to be a good person. Sometimes, we just need proper guidance from successful people.
Jay: The place is comfortable and peaceful. You can really pray, focus, and understand what the priest is saying. Each session is packed with learnings that we can apply in our daily life.
Criselda: We used to fight a lot. Even on petty matters like who gets to choose the channel on television.
Jay: Because we are applying what we are learning at The Feast, we have become more patient and caring for each another.
I used to drink a lot with my barkada. I would go home wasted in the wee hours of the morning, almost every other day. Now, I seldom drink with them. I prefer to drink at home— but only moderately.
Criselda: My aunt and I don't go to the casino anymore. That's a thing of the past. We now go to a weekly Light Group (LG) session. We meet with other couples and talk about the talk and how we are applying it in our daily grind. We pray for each other's concerns. It's great.
Back to the Church
Criselda: We have become regulars at The Feast. Our Sunday is not complete without attending it. If we can't make it to PICC, we make sure to watch The Feast on television. And hear Mass in our parish.
Jay: We look forward to Sundays now, for the Mass, for the talk. We always go early to get front row seats.