/
James Joseph D. Bardos, 38, single, finished a course on Telecommunications at the AMA University.
James is a freelance video editor and events video provider.
He lives in Malabon City.
James says he used to be a "typical guy" joining friends for happy hours after work, and a "typical Sunday Catholic" going to Mass now and then, but not really serious with his spiritual life. 
His Story
I was a typical guy who went along with friends after work for a happy hour, where there was always drinking and singing, especially my favorite Gary Valenciano songs.I was just having fun.
I entered into a relationship also just for fun. I did it just to conform with my peers. You know, so I won't be out of place, because everybody was doing it.
I was also just a typical Sunday Catholic. I was attending Mass. And I was active in the Parish Renewal Experience (PREX) program.
But my church activities  didn't put a stop to my carefree ways.
Since I was not serious about my faith, I also attended other non-Catholic church services.
Finding The Feast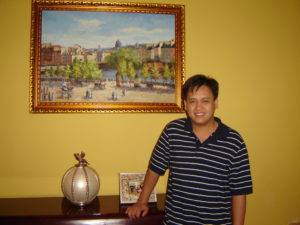 One day in December 2002, I saw a religious magazine in a bookstore and I was attracted to it because I saw a picture of Gary V. on the cover. As I was his fan, I bought the magazine right away. The magazine turned out to be the Kerygma magazine. I read it and there, I found out about the Light of Jesus Family and its prayer gathering, The Feast, then being held once a month at the Armed Forces of the Philippines (AFP) Theater in Camp Aguinaldo, Quezon City.
I liked what I read about The Feast. But it took a while before I went to check it out.
I first attended The Feast in June 2003. It was a life-changing experience for me that intensified my Catholic Faith.
From Camp Aguinaldo, I have followed The Feast as it transferred to the Arena in San Juan City, to the Valle Verde Country Club in Pasig, and now at the Manila Bay Area.
I've  served as member of the Music Ministry, and I even got employed in the Light of Jesus administration office in Cubao, Quezon City.
Back to the Church
The Feast made me appreciate more my Catholic Faith. I learned more about the Faith as I got to attend the Light of Jesus' series of seminars on  Apologetics—  the defense of the great truths about the Catholic Faith— conducted by Atty. Marwil Llasos, a lay preacher, apologist, and catechist. I then learned so much how to give a defense or explain my Faith to anyone who asks about it.
I also attended the Light of Jesus Roots program.Roots, held at the St. Francis Parish Church in Mandaluyong, is a weekly study about the Catholic Faith, explaining the structure and the traditions of the Catholic Church. The program was named Roots because the study digs deep into the foundation of our Faith— yes, our roots. It also teaches how to defend the Faith from criticisms of other denominations.
The Feast has well upheld Catholic rites such as the Visita Iglesia or visiting churches during the Holy Week. I've joined brothers and sisters in the community in these visits to reflect on the passion of Jesus Christ.
Through The Feast,  I'm also serving in various retreats for students as  facilitator and speaker. It's the least I can do to express my gratitude to God for calling me to be His disciple and giving me an opportunity to serve Him in my humble way through The Feast.