/
Jeremias M. Torral, 28, married, holds a Bachelor of Arts degree, major in Mass Communication.
Jeremias works as an Information Technology (IT) service desk analyst.
He lives in Marikina City.
His Story
MY life before I joined The Feast was okay. A bit lame and repetitive, nothing special. When I say repetitive, I mean my life only goes in a circle– work, family, and quarrel with my wife almost every day. That's it.
I rarely talked to my family and friends regarding my relationship with my spouse. Our marriage was about to fall apart. I kept it to myself until I exploded like a pressurized balloon.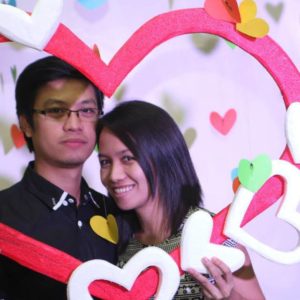 I believe in God but I usually don't pray. I pray only when I needed something. I admit that my faith was not strong. There even came a point when I questioned God because I could not bear the problems I was facing.
Before attending The Feast, I attended Sunday Mass– but not regularly. I went to church only when I felt like going and if the weather was fair. I should say my faith was conditional.
I can say that I was a pessimist and I worried a lot. I was getting irrational and hard to please. That was my old life.
Finding The Feast
In the last quarter of 2013, my wife Maylord introduced me to Feast PICC.
Back then, I had no idea what The Feast was about. I was hesitant to attend because it took ages to get to PICC —from Marikina, we rode jeepneys and the Light Railway Transit train. Plus, we had to endure the pollution, extreme heat, and heavy traffic. For me, it was a waste of time, energy, and money.
I was wrong. After listening to the inspirational talks of Bro. Bo Sanchez and other preachers, I felt good. Deep inside me there was someone scream-ing, asking for More!
It was such a remarkable experience for me that my wife and I both decided to make it a habit to attend the gathering every Sunday.
After a few months of attending in PICC, we found out about Feast Bluewave Marikina. We attended there and we met a lot of down-to-earth and devoted servants of the Lord.
At The Feast, I feel that I am a part of the family. To this day, we feel so blessed that we found a new family that has made us closer to God.
I like The Feast– its totality, its simplicity, even its imperfections. Above all, I like our mission: to love one another and to let everyone know that there is only one God.
The Feast consists of little and great things all rolled into one. Everyone's selflessness and unquestionable faith in God have made a huge impact on me, strengthening my own faith.
Loving the Church
I did not get to the point where I attended some non-Catholic churches. I did not think of that.
The unconditional love I feel at The Feast has made me appreciate my Catholic Faith. The Church does not discriminate. I love that our Church, through The Feast, reaches out to the unchurched, spreading the unconditional love of God.
Today, I live happily with my loving wife. Our marriage has become stronger. We are blessed with our genius son, Maden. And we are even more excited because of an addition to the family. We are expecting a baby girl!
I am also proud to be a servant of Feast Bluewave Marikina. Together with my wife, I serve in the Couples, Events and Media, and Food Ministries.
Although there was a moment I almost lost faith in God, I am happy that I have stayed in the Catholic Church and that now, my faith has become stronger since I joined The Feast. My faith is unbreakable.