/
Lerry Royce B. Monteiro 25, holds a Bachelor of Science degree, major in Accountancy.
He works as an auditor in an auditing firm in Makati.
Lerry lives in Liliw, Laguna.
Lerry said he went through a "spiritual identity crisis." But he eventually found his way back to his Catholic Faith.
His Story
I can describe my old life as miserable and messy. I was lost, confused, and pessimistic about life. I didn't know myself and God. I didn't know what and for whom I was made for.
Straying Away
My spiritual life used to be dry and dull. I didn't have a personal relationship with God. I only talked to Him whenever I needed something from Him or when I was undergoing a difficult situation.
I rarely attended Sunday Mass. I went to church only during Christmas, New Year, or special occasions. That's because I was usually bored and uninterested with the long homily of the priest.
There was a time when I went through a spiritual identity crisis. I had doubts and lots of questions about my Catholic Faith. I even thought of leaving and forgetting the Catholic practices and teachings.  I attended Sunday services of another Christian church.
Finding The Feast
Actually, no one invited me to join The Feast.  I came to know it by accident.
Sometime in 201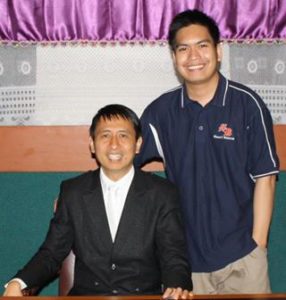 2, I was at the premises of the Philippine International Convention Center (PICC) attending an event.
I saw a bunch of people in uniform distributing copies of some sort of bulletin along the hallways of the PICC Plenary Hall. I wasn't able to get a copy of the bulletin. But I did have a glimpse of its front page. I saw the names "The Feast" and "Bro. Bo Sanchez" in bold characters. I got so curious about them that I looked up those names in the Internet. And I found out that The Feast is a weekly spiritual gathering headed by the famous author and preacher, Bro. Bo Sanchez.
I became interested when I found out that The Feast caters to the lost and unchurched Catholics. I was passive in my spiritual life then and was going through a lot, so I attended one of the Sunday services.
I enjoyed my first Feast experience. I was blessed by the lively worship, the beautiful Eucharistic Mass, and radical preaching of Bro Bo. I so enjoyed The Feast that I just found myself becoming a regular attendee. I have been a member for more than three years now.
I like how The Feast teaches and preaches the Word of God, in a very practical, relatable, and contemporary way.
Back to the Church
Through the talks at The Feast, I was able to fully understand the Catholic Faith. Through its unconventional and practical way of preaching and sharing the word of God, The Feast has taught me to embrace, love, and practice my Catholic Faith.
I like the Catholic Faith because it is universal. The Catholic Faith is capable of promoting unity among different individuals. The Church is made up of members from various cultures, races, lifestyle, and language.